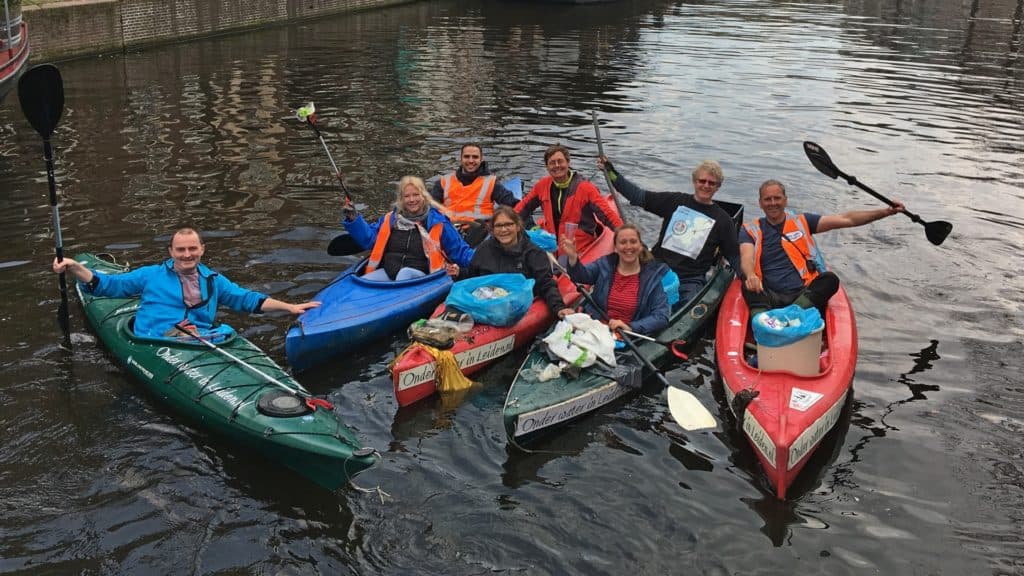 Taskforce Litter Fishing Leiden: grab a canoe and join us!
The crystal clear waters of the Leiden canals contain an abundance of wildlife due to correct water management. However, there are also places which are littered with plastics and other man made materials. That's why we'll be on the water again with our fleet of canoes!
What is it that we do?
Armed with nets, litter pickers and other materials, we're going to extract litter from the water. All materials are made available by Onder Water in Leiden (Under Water in Leiden), including five canoes. If you want to bring your own canoe or kayak, please do!
The canoes
An impression of four of the canoes below. They're also available for individual sessions, as long as you come back with a bag with litter! No experience with canoeing? Not to worry, these are very stable!
Karper

Ronnie

Zeelt

Snoekbaars
Sessions 2019
Saturday 9 March with Plastic Soup Surfer Merijn Tinga
Saturday 23 March Merenwijk
Tuesday 2 April – with Plastic Soup Surfer Merijn Tinga
Sunday 7 April
Sunday 28 April
Thursday 23 May
Friday 4 October
Starting location and time
Normally we start at the small landing stages at the Zijlpoort. We launch at 11:00 and try to limit the session to no more than two hours. Usually we just cannot stop (highly addictive activity), so it could get a bit later!
Participating
Send me an email with the day(s) you want to participate. Please mention if you want to use one of our canoes or if you have your own vessel. If you want to get updates, I can put you on the mailing list, just mail me and you'll get the newsletter.
No costs
Participating is free, we're more than grateful for your efforts! After each session we get together for a free cup of coffee or another beverage.

Kids
Also welcome! Best is to take a two-persons canoe with an adult and a child in it. Children usually want to go litter fishing, while the adult does the paddling! It's also the safest approach: one-to-one supervision. Consider a life vest!
Further info

Make sure to put on old clothes!
Your telephone can be put in our watertight container
Take something to drink and eat with you
Bringing your own boat? Use cheap paddles! The canal walls may damage your nice (carbon) paddles. We have a limited amount of paddles for these circumstances.
We bring bags, pickers, nets, rings, gloves, etcetera
Private session?
The canoes are free to use, as long as you return with litter! Paddling through the canals, a picnic on the way in one of the many parks? Mail me when you want to borrow a canoe, if possible at least two days in advance so I can make sure all materials are there. There should be at least one adult in each boat and there's a maximum of five people.
Safety
Especially on nice, sunny days it can be busy on the water with all kinds of small, motorised boats. It's a friendly, slow going happening. We have priority in our canoes, but never enforce it. We are in no hurry and just wait where necessary. For additional visibility we wear a bright coloured vest.
Partners Taskforce Litter Fishing Leiden