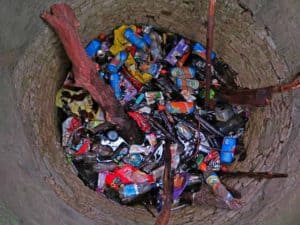 Back in the spring of 2017 I noticed the alarmingly large amount of trash in the monumental well of Castle "Oud Poelgeest" in Oegstgeest, the Netherlands. Contacting the authorities didn't resolve the issue and the well was too deep to reach the debris.
Today it was different: the water had a much higher level and I could reach the floating litter with my litterpicker. 
The historical water well is part of the Poelgeest estate, dates from 1550 and is decorated with a coat of arms and three cannelured pilasters with Ionic  chapiters and renaissance elements.
Filled with litter… disgraced by the excesses of consumerism… From today on filled with clear water only.